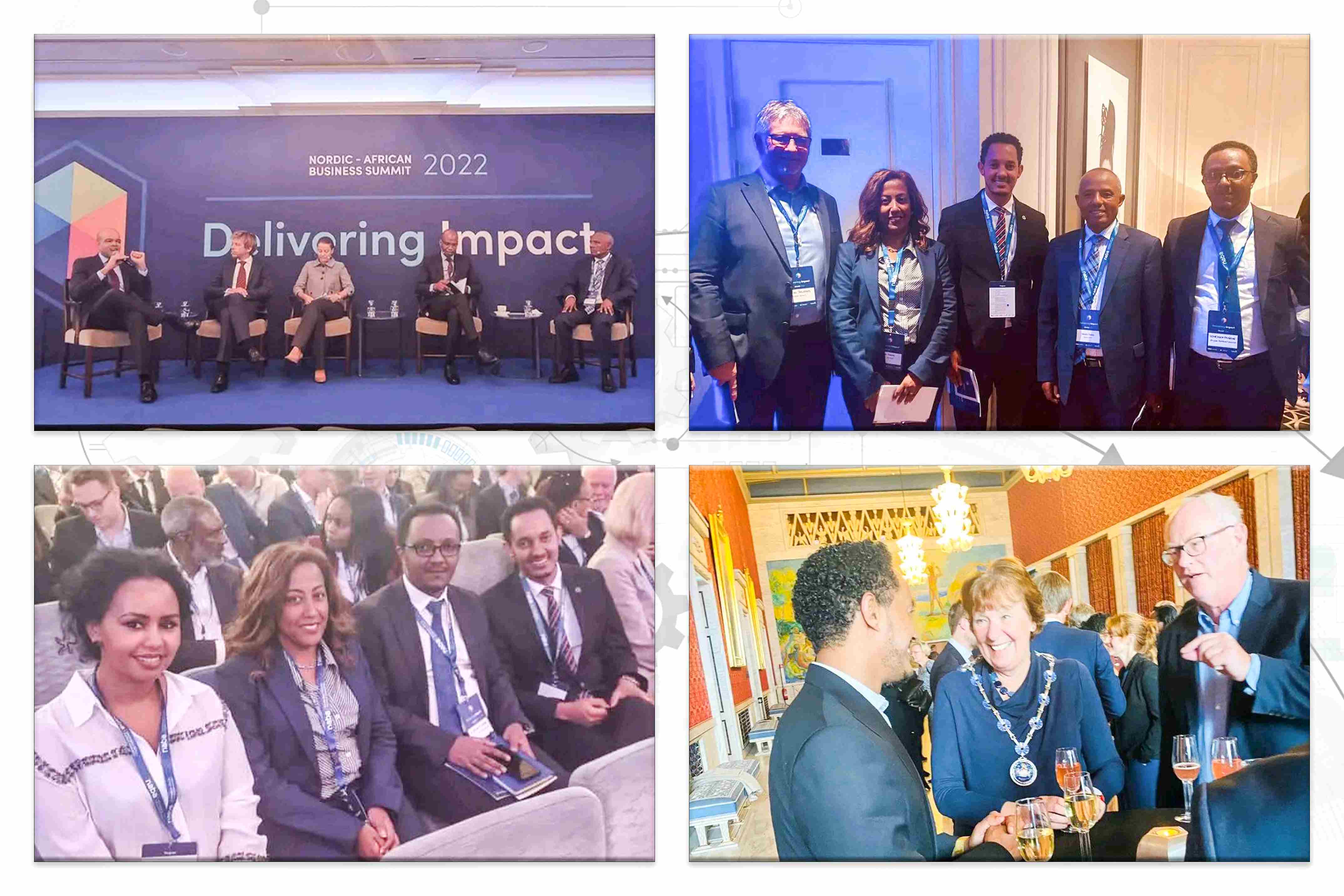 Nordic Africa businesses submit 2022.
Investors from Norway have stated that they want to invest a manufacturing business in Ethiopia.
The CEO of Industry Parks Development Corporation, Mr. SandokanDebebe, led a group that attended the Nordic Africa Business Summit 2022 in Oslo, Norway.
Mr. Sandokan and the companions also visited other companies in Norway, including major food and flower manufacturers, and gave detailed presentations on investment potential in Ethiopia, notably in industrial parks.
The "Delivering Impact" summit, which brought together African and Nordic corporate organizations, was hosted in Oslo, Norway in 2022 to raise awareness of the continent's investment prospects.
The delegates proceeded to Bama Fresh Cut, which dominates the Scandinavian market for fresh produce, and they had in-depth discussions about the logistics for importing bananas, avocados, lettuce, and other similar fruits and vegetables from Ethiopia as well as how Ethiopian Airlines could make use of the cold chain and cargo logistics system.
The team also had a conversation with the manager and owner of Master Green, a flower business in Norway that has long imported flowers from Ethiopia and Kenya and has more recently begun importing spice products from the Ethiopian market. The corporation requested an increase in air transportation capacity in order to get the items to the necessary market.
After businesses voiced an interest in taking part in different investment possibilities in Ethiopia, the delegation told them of the advancements in the trade, finance, and investment sectors as well as the numerous incentives in the supply sector.
In order to explore investment potential in Ethiopia, particularly in industrial parks, the foreign investors and representatives from various food, flower, fresh fruit, and vegetable producers met with the Ethiopian delegates at the summit.
The participants also met with the foreign minister of Norway, representatives from the Yara Company, Norfund, the African Development Bank, and leaders of groups and institutions engaged in the production of energy, farming, information technology, and banking.
Ethiopian Airlines addressed the event about his experiences helping to forge stronger international trade and investment links as well as opening doors for foreign businesses to access and invest in Ethiopian industrial parks.
In order to explore concerns that would enable women to work in industrial parks and offer childcare and social assistance, the team lastly visited with Partnership for Change (PfC), a non-profit organization that aims to aid mothers and educate children in Ethiopia.