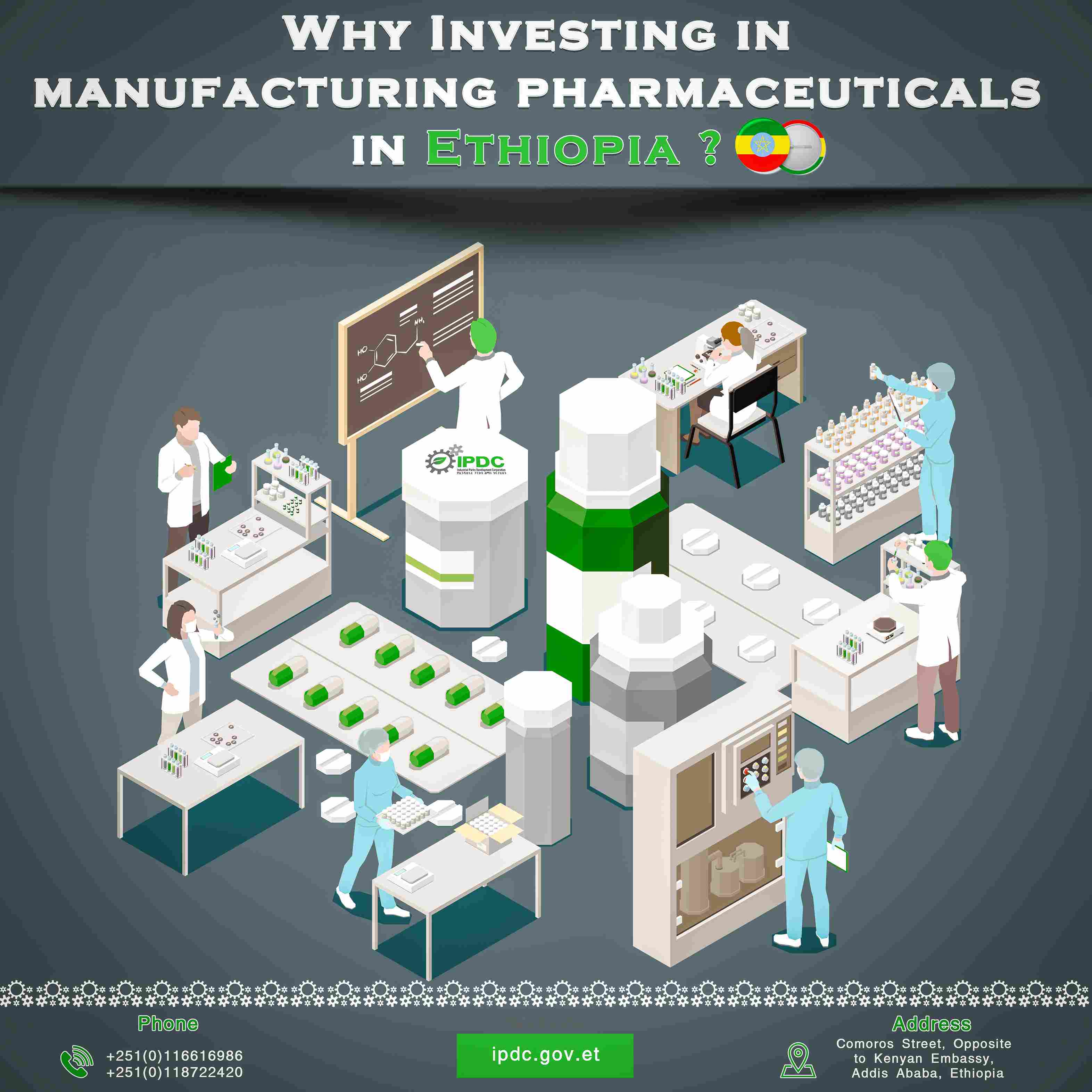 Why Investing in manufacturing pharmaceuticals in Ethiopia?
Why Investing in manufacturing pharmaceuticals in Ethiopia
• Accessible to local Market: Ethiopia is currently importing 85% of its pharmaceutical needs and local market size for the sector estimated to reach 1.8 billion $ by 2025. Furthermore, the health sector takes 12% of the national GDP for expenditure.
• Accessible Regional Market: Potential to serve as export hub for the >$20 billion pharmaceutical market in Africa and regional free trade agreement (COMESA, IGAD) plays major role in increasing the addressable market in Africa.
• Investor friendly policies and incentive focused on pharmaceuticals: - exemptions of corporate income tax, personal income tax, export taxes and duties free for the sector. In addition, One-stop shop for government services and the first African country to develop a national strategy for pharmaceutical manufacturing.
• Trainable workforce with competitive wages: - More than 10 schools of pharmacy in Ethiopia and Programs will be expanded to new areas of specialization (e.g., industrial pharmacy, pharmaceutical analysis, etc.). Moreover, wages for professional in Ethiopia are very competitive.
• Fast Growing Infrastructure and Very Cheap Green Energy: the average price of electricity in Ethiopia is 0.007 U.S. Dollar per kWh for households and 0.023 U.S.
Most importantly aviliablity of Specialized Industrial Parks: - Kilinto industry parks
• State-of-the-art and specialized in pharmaceutical manufacturing with all necessary infrastructure.
• Developed 0n 279 ha of land.
• Found in the capital city of Ethiopia, Addis Ababa
• Service land is available for 40 years lease Period with a very competitive lease price as compared with the rest of the world.
Come and invest in Ethiopia, the future pharmaceutical hub of Africa.
Come and invest in the state of the art Specialized industrial park for pharmaceutical, kilintno industry park.